Do you need a website in Danish?
-if you have an independent business or you are looking for a job in Denmark
– if you have a book project or any other project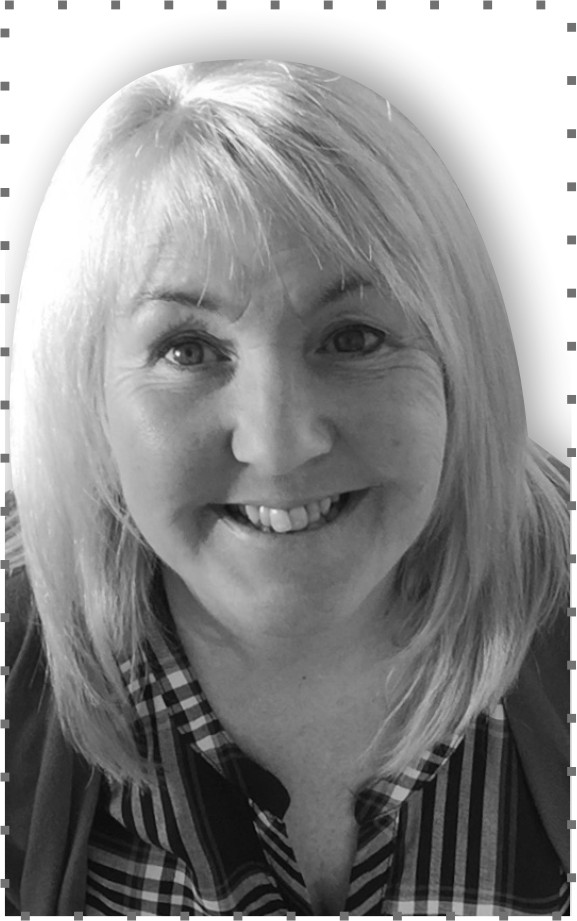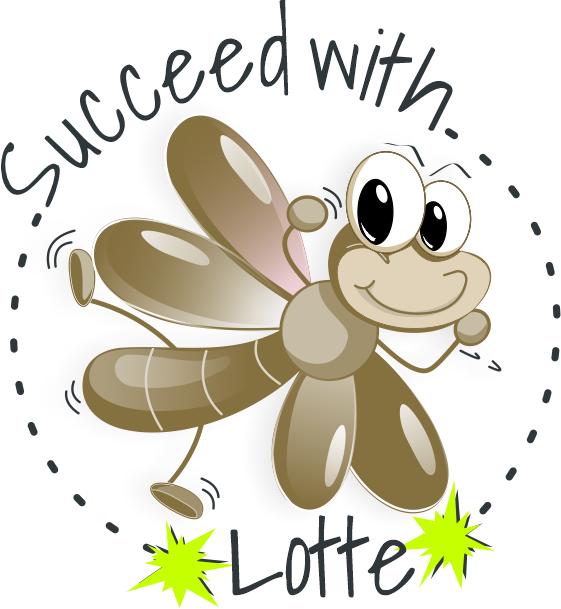 Hello and welcome to my site
My name is Lotte Jensen and I'm Danish!  I write this because; please understand that a few errors in the English language can occur on this page as English is not my mother tongue. Thank You!
I am 58 years old and therefore I have done 40 years in the labour market doing all kinds of different jobs but mainly around communication:
Visual • written • verbal.
With communication comes computer program skills – it's natural and I have always loved working on a computer.
In 1991 I bought my first "real" computer – a Mac with 40 mb hard drive and a stylus ink-printer for 25.000 Danish kroners! Wow! It is a good thing that humour was invented, especially when you think of what you can buy today for that amount of money!
I love to communicate to and with people and although it's modern to send e-mails I still like the phone conversation as I am a highly intuitive person and a good listener. So, don't hesitate to call me, I would love talking to you about your project, plans or thoughts.
Below you can  see some of the things I can offer you.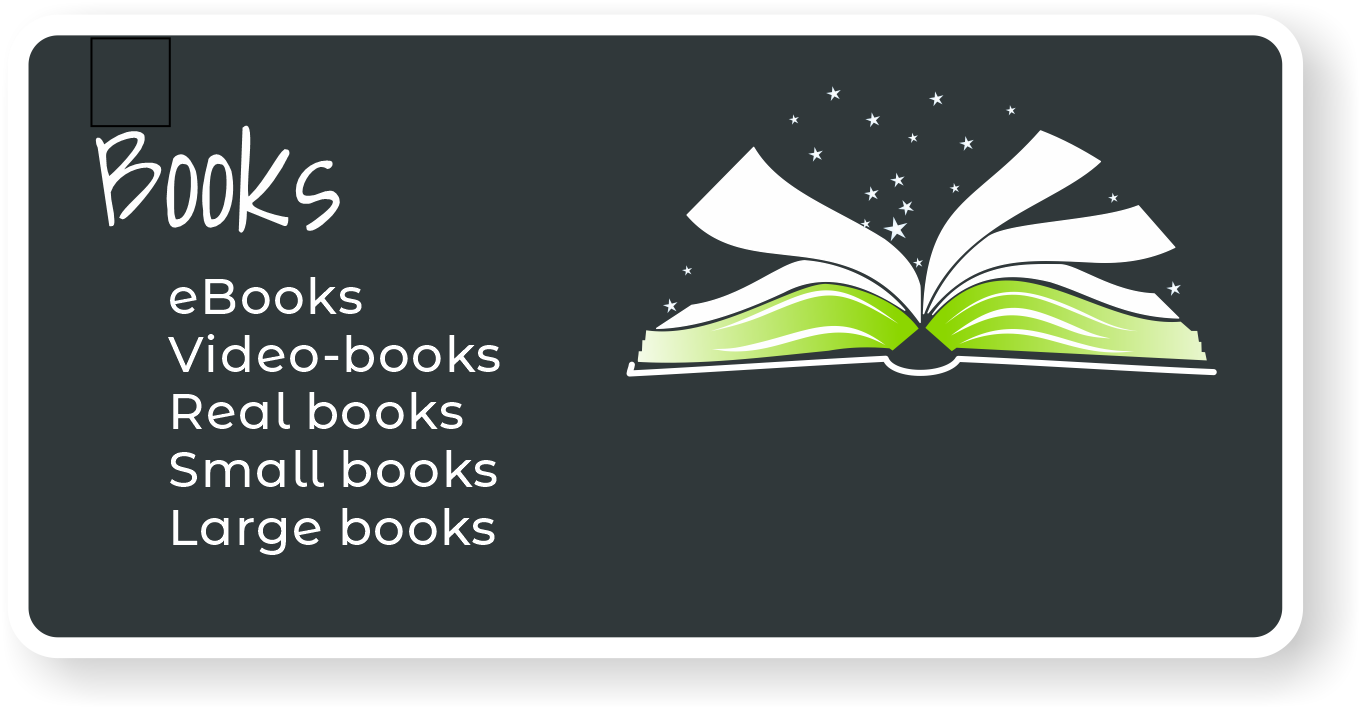 How do I get published in Denmark?
Can I publish my book by myself?
How do I hire an illustrator?
How do I advertise my book in Denmark by myself?
Why should I get a professional setup of my book?Get these and other of your questions answered by calling me, Lotte Jensen, at

 

Tel: +45 3699 2944
Or book a free conversation of 15 minutes in my calendar.
Books
I was educated at a book printing company more than 30 years ago.
You can benefit from my long experience in producing books and other graphic designs.
Books in English: You will be responsible for all proofreading yourself and finding the right proofreader for your book. I must also urge you to get your text proofread 3 times and looked at, preferably by more than one person.
Books in Danish: I can supply you with an excellent proofreader and I can also offer the translation of your work.
Feel free to call +45 3699 2944 and hear how I can help your present or upcoming project.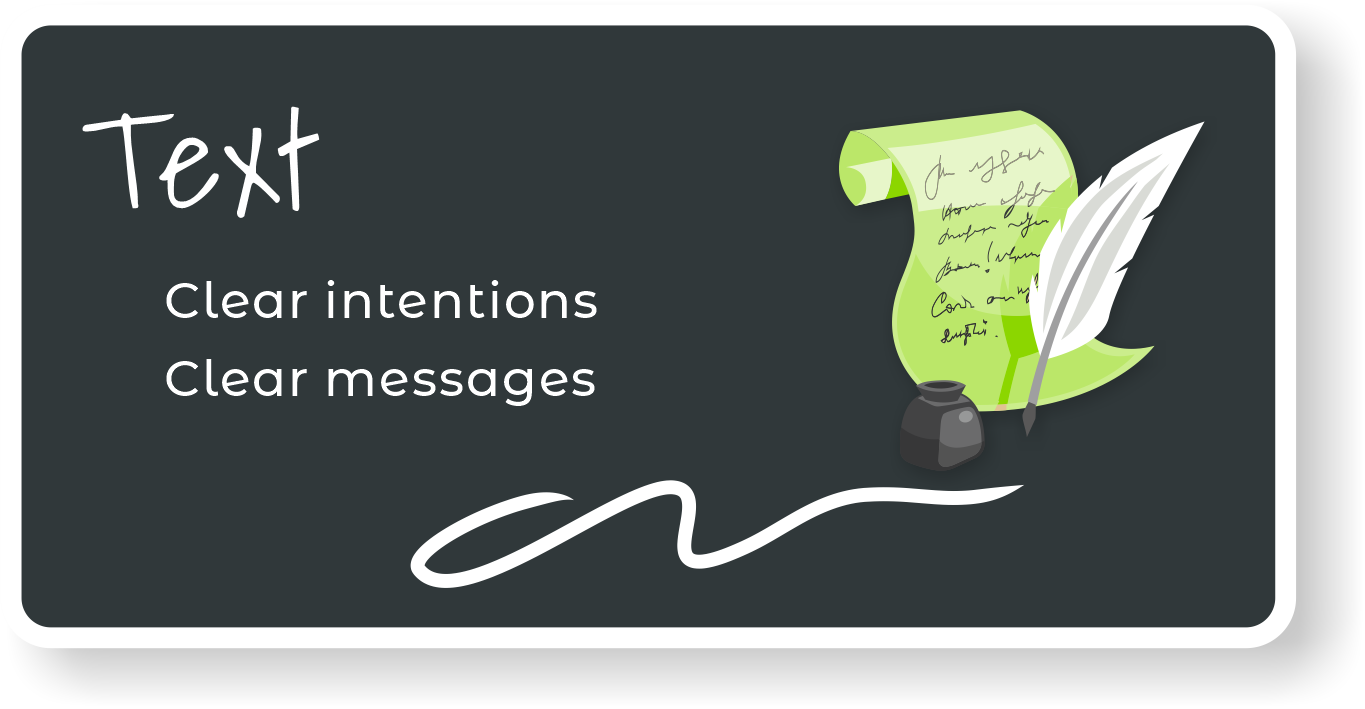 Short review of your manuscript or chapters
Review of your job application
Review of blog post
Texts for advertising
Kr. 895,- ↑     Kr. 3.580,-↓
Text
When writing a text, begin with a clear intention of what message you wish the reader to receive.
Once your intention is set, it is easier for you not to go astray and express yourself in a clear way.
However, text must also be seen in the context of "what kind of text" you are writing. Is it a job-application or is it a fictional novel?
I have 20 years of experience in getting clear messages across from speakers to (hearing disabled) readers as a speech to text interpreter. This is a really good skill for various jobs, e.g., social media.
Feel free to call +45 3699 2944 and hear how I can help your present or upcoming project.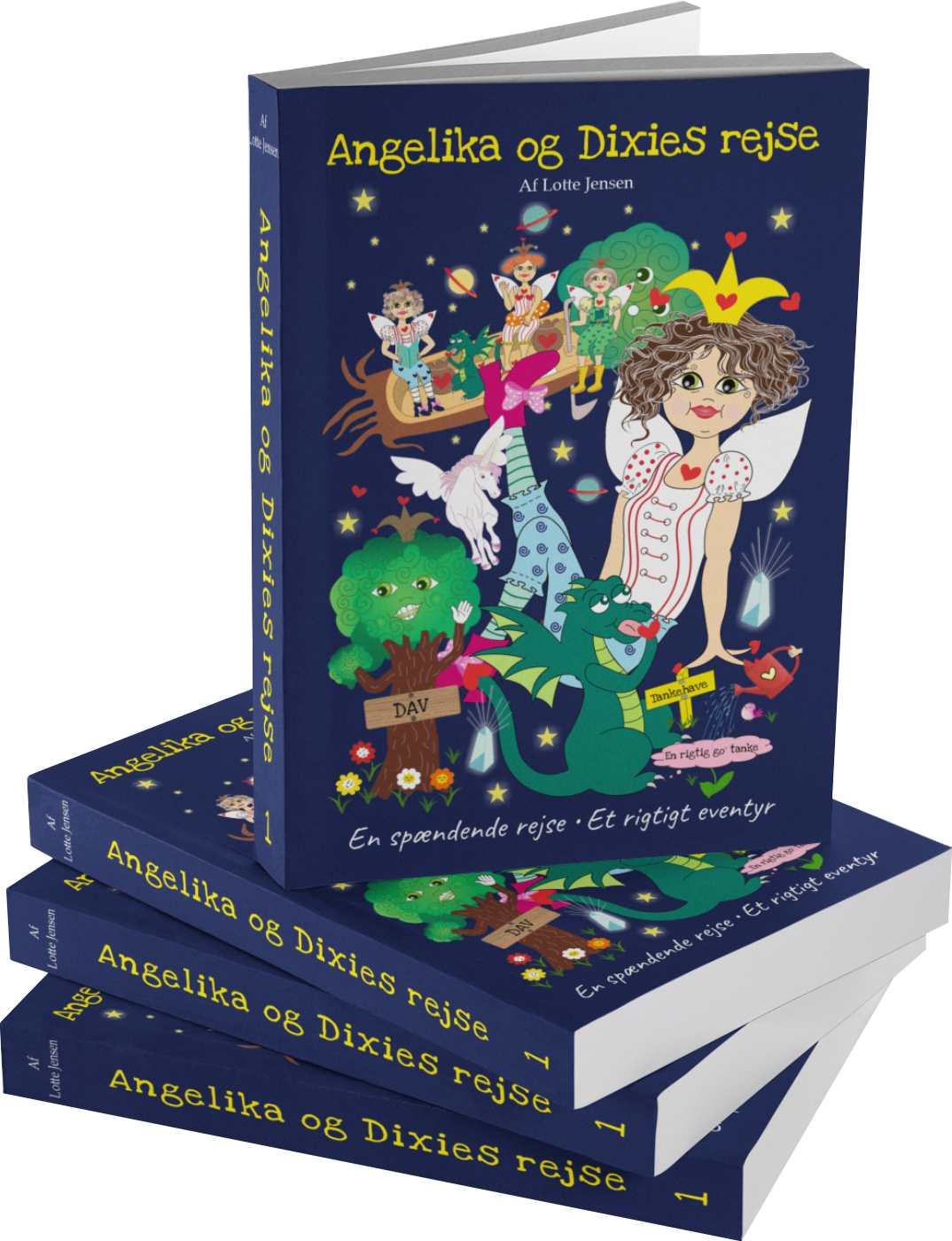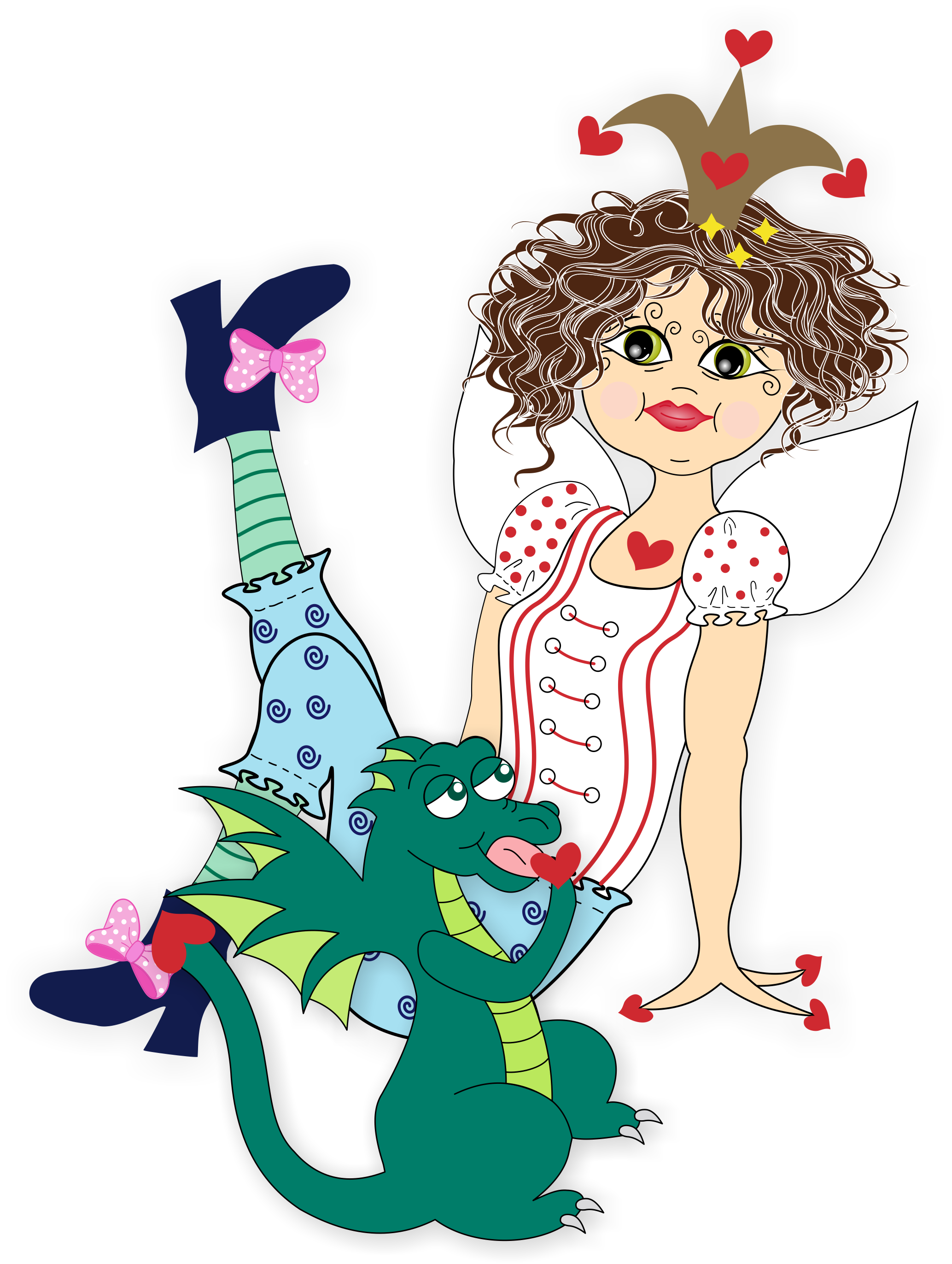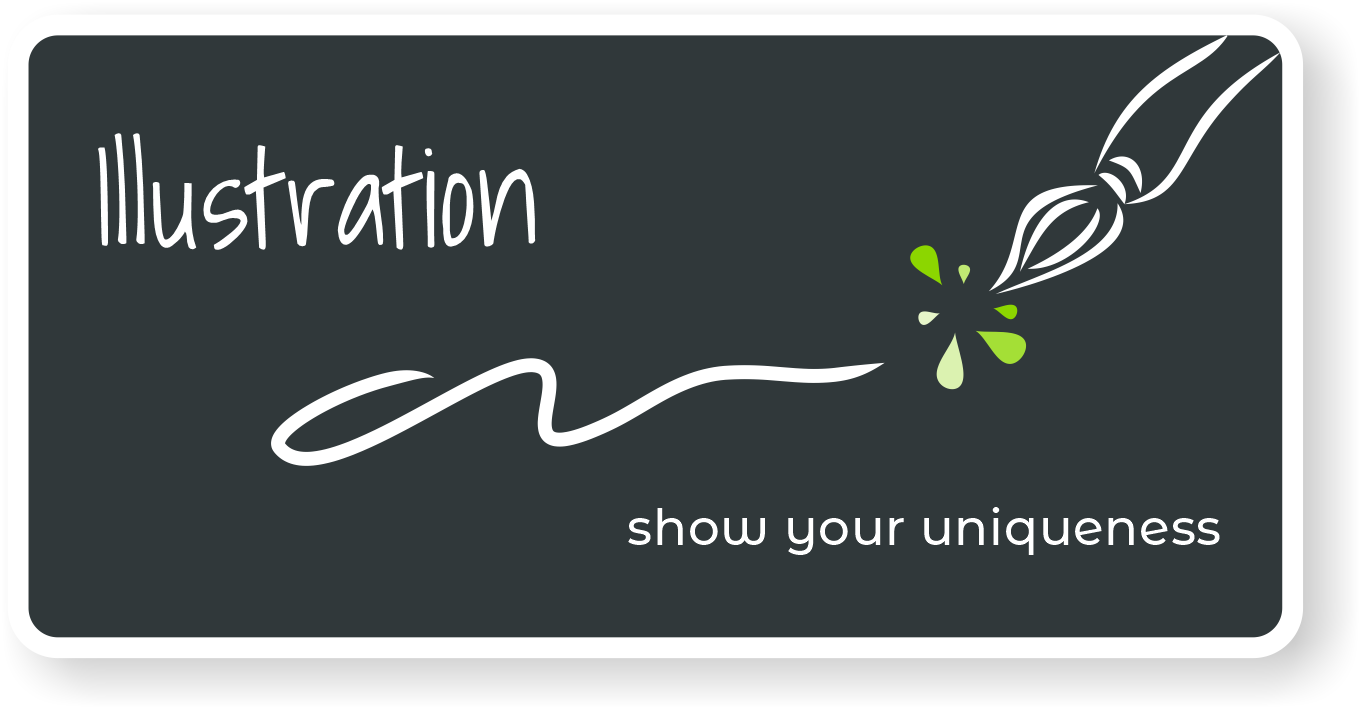 Drawings
Books/eBooks/Flip books
Flyers
Homepage illustrations
Book covers
Social media design/content
Logos etc….
Kr. 1.250,- ↑     Kr. 2.150,-↓
Illustration
I am a vector specialist! Since the 90ties I have made hundreds of vector drawings of everything from furniture, hand drawn pictures, maps to cartoon characters. Your vision of you want illustrated is in good hands with me.
Great illustrations are your possibility to show your uniqueness but also to stand out and brand yourself (or your product) among others. We buy from people we know so let your costumers recognize you on social media and elsewhere.
If you are struggling to find the right pictures for your project – picture which are in the "creative commons category – I have several channels to search and will probably be able to help you quickly.
Buy 15 minutes of help right here
Feel free to call +45 3699 2944 and hear how I can help your present or upcoming project.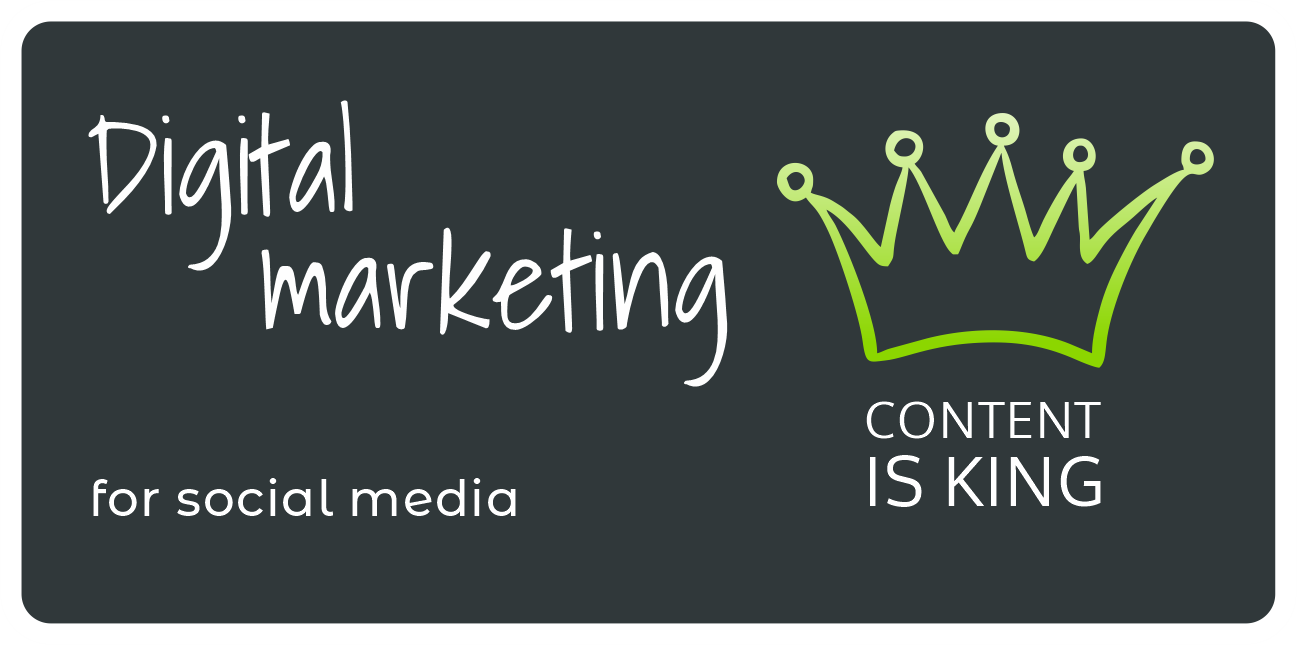 Facebook
Instagram
YouTube
Google 
Video editing
I can help you make your plannings
I can educate you to help yourself
Marketing
By attending an education in digital marketing, I learned several skills, but apart from that, I also learned that advertising and promoting yourself on social media has a quite long span from you begin until you see the great many responses. In some cases, it can take from 1 year to 2 years before you get the results you really want or wish for.
Continue your efforts in the things and ways that are already working well for you – and – use the people you already know, to get started on your social media journey.
Feel free to call +45 3699 2944 and hear how I can help you plan your social media journey so you can get the best start you can imagine.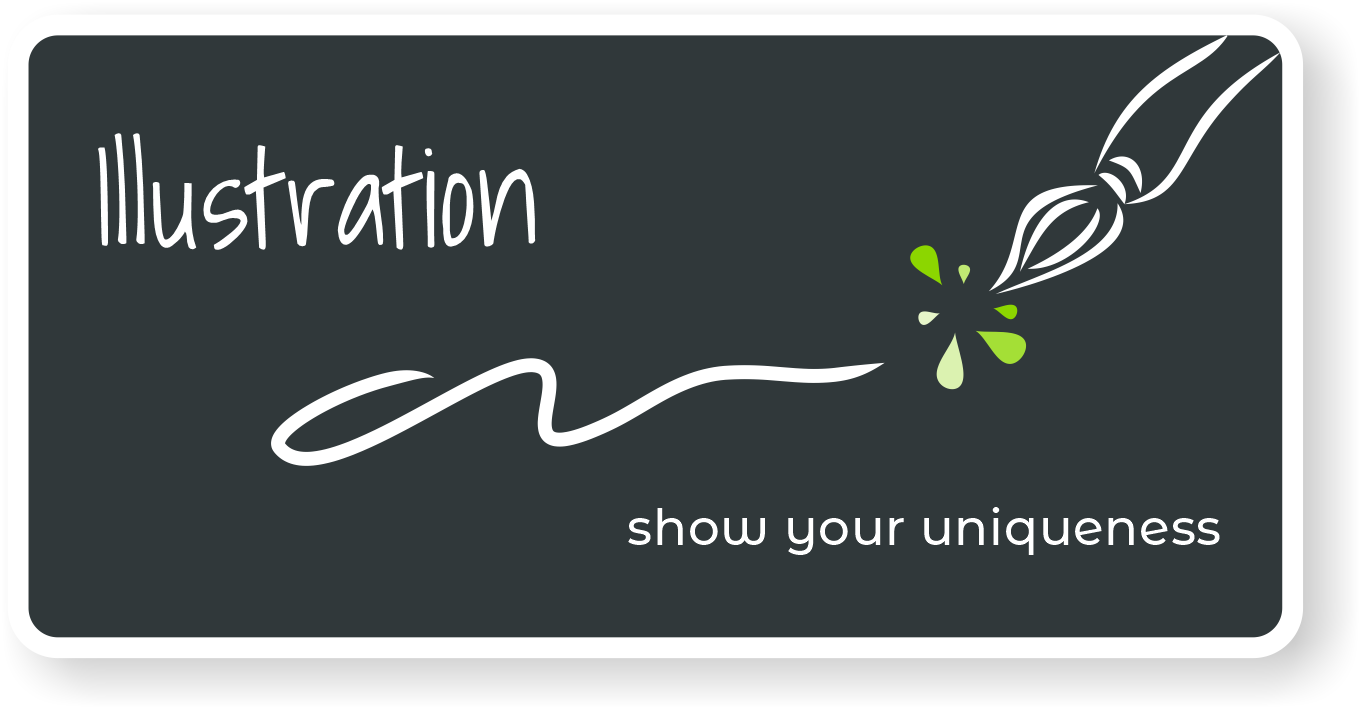 Homepage for your BIZ
An online portfolio
An online CV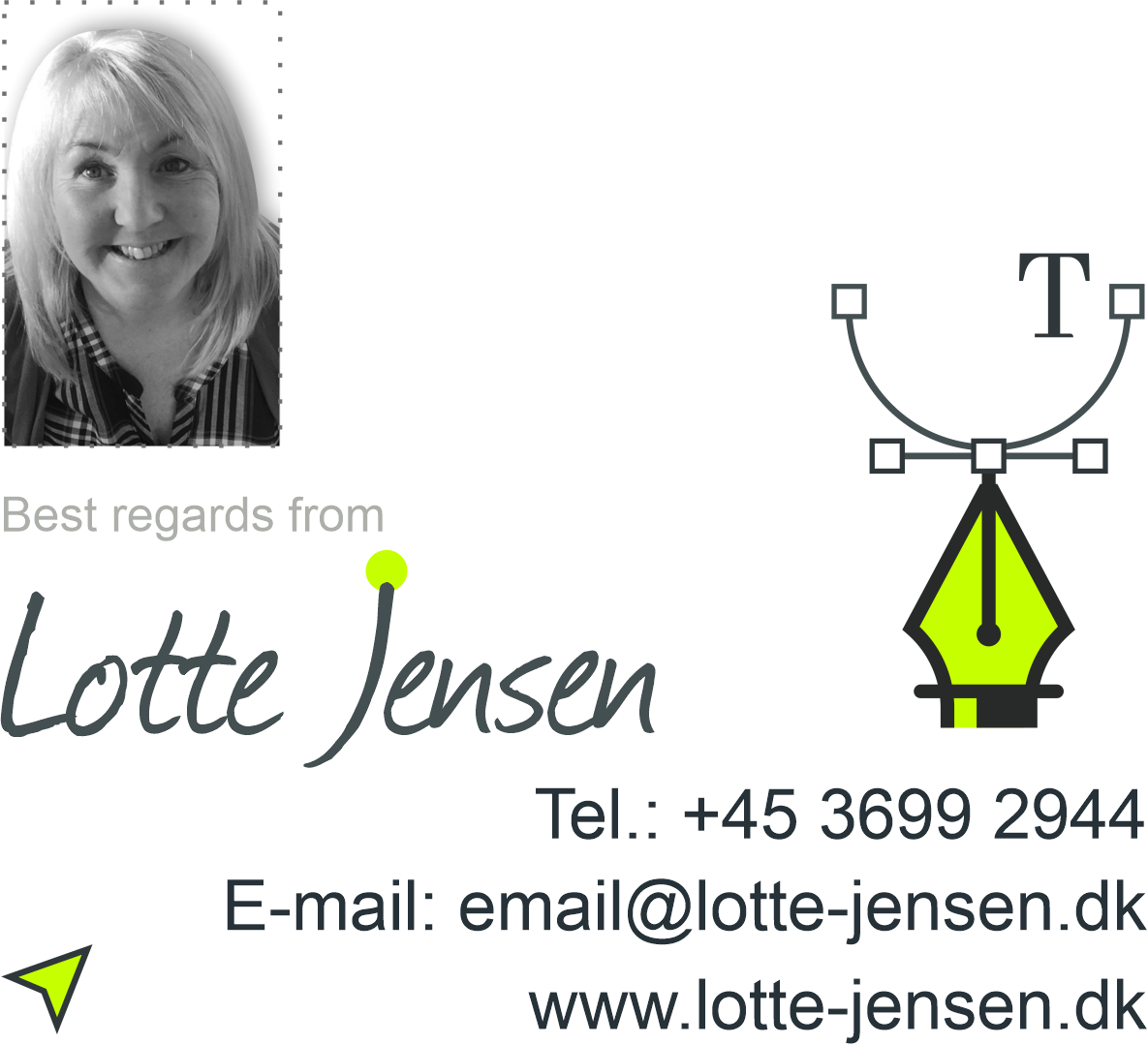 Technique
Having worked with computers and graphic design most of my work life, I know my way around the functions in a large variety of computer programs.
I find it fun to create for both digital and print and I find challenges worth solving – which is good, as you can then benefit from my knowledge.
If you need a homepage in Danish (or English) I can create a nice design for you just like I did in these cases:
A price on a homepage is usually individual because we have different needs for the design, technique ability and number of pages we want.
A homepage made by me is "do it yourself proof" – I can teach you how to navigate and make your own corrections, once the homepage has been made.
Feel free to call +45 3699 2944 and have a chat with me about your wants and needs for a homepage. I will then calculate the right price for you.
Present yourself in the best way possible
and get ahead in Danish society.
Statistic shows, that in only a few years Denmark will be short in labor and will have to import workforce from aboard.
At the moment, Danish workforce has shortages in areas, such as education, engineering, IT, medicine, and healthcare. The government maintains a Positive list of shortage occupations. If you have qualifications to fill any of the roles that is shown on the list, it should be simple for you to find a job.
In 2030 Denmark's workforce will lack 90.000 educated/skilled people so now is the time to prepare if you want to come and live and work in Denmark.
How I can help you
I can, with my more than 30 years' experience in graphic design and communication, help you with your professional presentation in Danish both visually and in writing.
Your résumé or small website in Danish will give you that professionalism an employer wants to see.
Meanwhile your website is online, you can practice Danish so you can have the best possible start in Denmark.
In addition to these services I can coach you, direct you towards your goals, answer your questions, guide you to courses, government homepages which I will also be happy to explain the content of to you. All in all, I 'll do my best to provide you with the information you need to move ahead.
It all comes at a price!
Of course, it does! However, I have made it possible for you to pay me fees in monthly rates so it will be affordable for you to succeed.
I will walk the walk with you – every step of the way.
Master basic Danish
Even though you read and speak English and most Danes will understand you, you will still have to show a resume in Danish and any employer will expect you to learn the Danish language.
Learning Danish will also be essential for you to integrate with locals, immersing yourself in Danish culture and getting the best out of your life here.
There are many ways to learn Danish, and here you can explore your options or get into a program to learn to master basic Danish.
Work & live
The whole package is for you who want to make it happen.
Invest in yourself and your future and buy all at once or with monthly rates – your choice.
11.000 dkk
Limited offer, hereafter the price will rice to 14.000 DKK
The "work & live" in Denmark package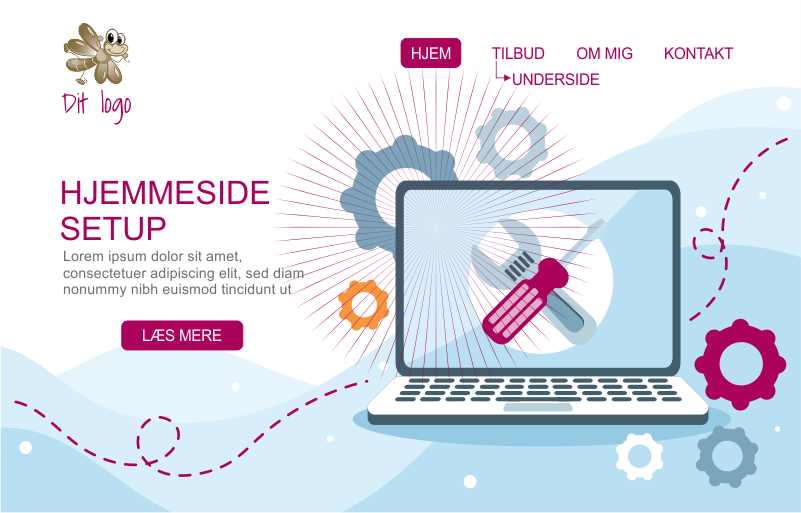 Be visible to Danish employers
Get your website or résumé online in Danish to show to employers so that they have an excellent view of your skills. Of course, you can also buy this service separately:
Master basic Danish
Learn to master basic Danish and join 7 days of Danish so you are ready to mingle with the danes. Buy this service separately right here.
I will help get you there
Get translations, explanations, information, coaching and guidance to your goal when you need it, is also included. Small issues like phone numbers, adresses, finding the right city, persons/schools e.g., are not always easy to find when you live in another country – I'll help you with that too.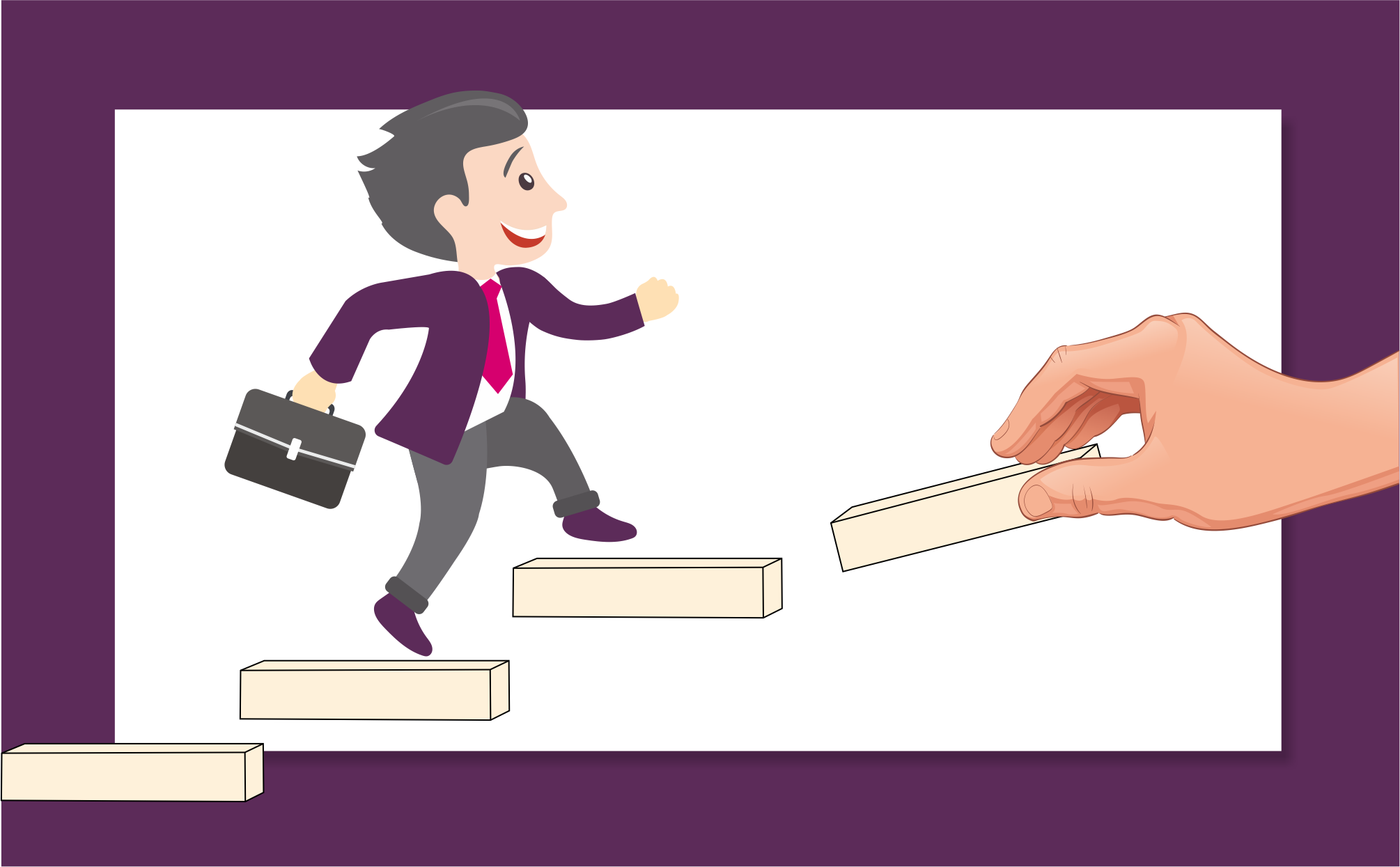 Useable for 12 hours within 12 months – whenever you want.
1st box: surname – 2nd box: last name – 3rd box: your email adress
Download your FREE guide
In my FREE guide you can find a lot of useful links when you are planning to work & live in Denmark.
Saying GOODBYE to your home Country is
a BIG thing!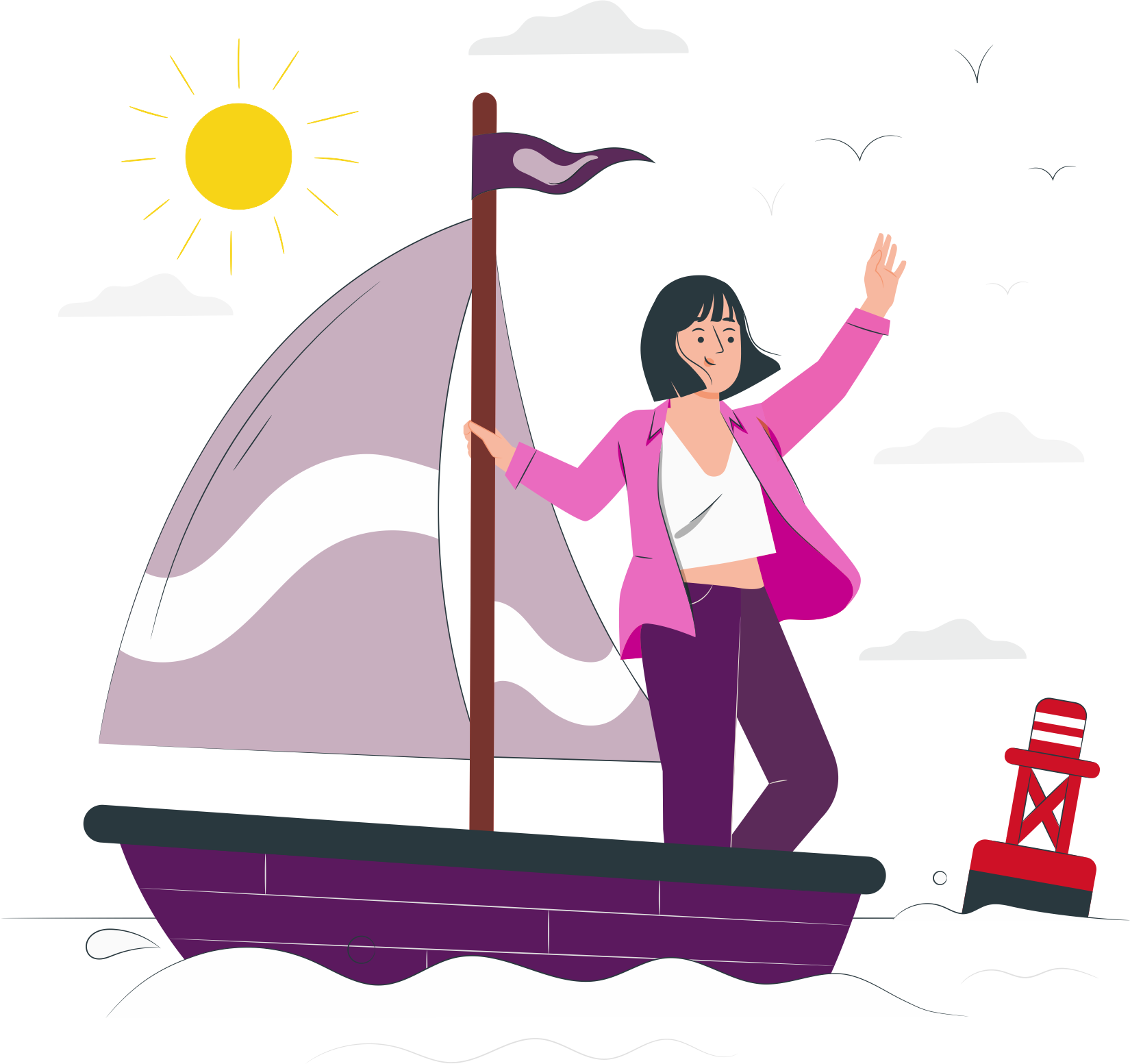 Get your "work & Live" support package today
Have someone to lean on in Denmark
Why I can help you!
I have a formal education with graphic design, communication and interpreting and I have for several years served as a life coach with special focus on setting goals and reaching them step by step.